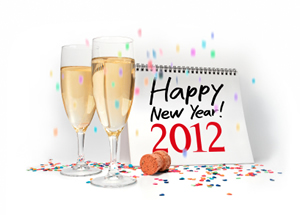 That's it for 2011, in Samoa they are already celibrating 2012. Here in Holland we also start our preparations. 2011 was a great year for airsoft and our website [NL]Airsoft.com!
2011 has been a great year for [NL]Airsoft.com, we have gone social with 320 fans on our Facebook page and 320 followers on our twitter account (over 3700 tweets! W00t!). A great start! The community is still growing strong and the [NL]Airsoft.com crew is working hard to improve the website even further. In 2011 even more visitors have found their way to the [NL]Airsoft.com website. For 2012 we have BIG plans, more information on that soon. Perhaps a new website? Maybe a new logo? A mobile website? Or mobile app? Or maybe all of this? :D Stay tuned! In 2013 [NL]Airsoft.com will exist for 10 years! We really would like to celibrate that big time! :D
Last but certainly not least we would like to thank our visitors, active registered members and sponsors for this year! We count for your support in 2012 for another great year! As every year we try to provide a nice overview of Airsoft in 2011 (suggestions are welcome):
Airsoft in 2011
Definate launch of the Airsoft GBB rifles
Cybergun acquires BIOVAL Technologies and Swiss Arms (and many more...)
More and more usage of LiPo batteries
New manufacturer BOLT Airsoft with innovative Bolt Recoil Shock System (B.R.S.S.)
A nice Aprils' fools joke of ECHO1, wooden BBs :D

RealSword M16/M4 AEG/GBB confirmed! (unfortunately still no release...)

[NL]Airsoft.com Shop Review Database Launched

California Senate Bill 798 did not pass!

European Airsoft Association (EAA) definately launched

VFC - Robinson Armament XCR

The Airsoft Factory - 15/10 grand opening!

Crosman getting more and more active into the airsoft scene

Evolution Airsoft - Lone Star Tactical AEG's!

Mechbox.com 2012 relaunch!

SYSTEMA 20th Anniversary

Introduction of the CAA Airsoft Devision (and more brands gooing into airsoft KRISS Systems and off course Magpul already in 2010). Many others provice airsoft licenses.

The very positive developments around Airsoft in Holland! Who knows, it might become legal next year :D
Suggestions for this overview are welcome! See you next year!