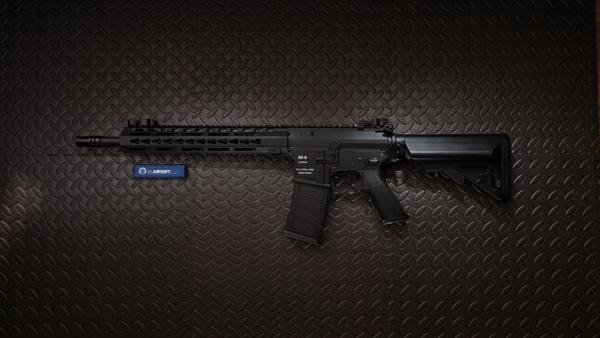 Introduction
Today we are going to review the Classic Army KM12, kindly provided by iWholeSales.co.uk. I must say I am really exciting to review this specimen because the company is known for there full metal rifles and this is not a full metal rifle :)
About Classic Army
Classic Army is a company that wanted to make good affordable, high quality AEG replica's with metal bodies. They've been out of the game for a while but they are back with new good looking polymer rifles.
First impression
The first impression was good, the replica felt sturdy it looks a lot like the "ICS CXP UK1 TRANSFORM M4". The first thing that I noticed was the motor grip it felt a bit small (for my hands).
After a little bit of more examining I was totally in love with the rifle. I was really impressed about the weight of the rifle it is very light and yet very strong, normally I play with my full-metal HK416 which is very heavy for having it around my neck for a day but this is a game changer for me.
The markings are nice printed on the rifle, the only engraved markings are the selector markings and the markings "Made in Hong Kong"
What I noticed is that the HiCap magazine only works on the Classic Army.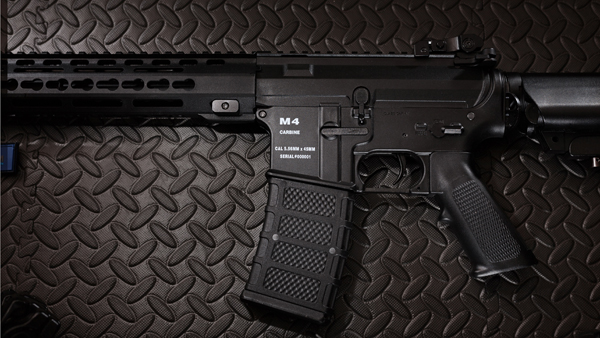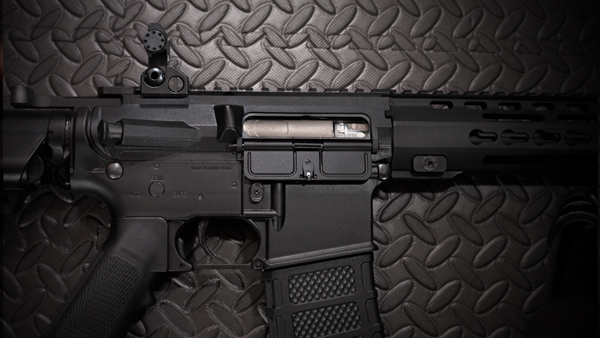 Manufacturer specifications
- High strength polymer receiver
- 12" KeyMod hand guard
- Full length 20mm top rail
- Retractable 6-position adjustable crane stock
- Detachable flip-up front and rear sights
- Railed upper receiver perfect for optics
- Polymer ergonomic motor grip
- Easy spring-change system gearbox with 9mm bearing bushings
- Deans-small Tamiya plug adapter included
- 6.03mm tight-bore inner barrel
- Hi-Capacity magazine included
- In-line MOSFET unit
- Battery and wall charger included (no adapter for EU)
- Length: 770mm-880mm, Adjustable
- Inner Barrel: ~330mm
- Magazine Capacity: 300rd Hi-Capacity. Compatible with Matrix, G&G, Tokyo Marui and other similar M4 / M16 Series.
- Muzzle Velocity: 350~360 FPS (Measured with 0.20g BBs)
- Gearbox: Ver 2 Full Metal, Fully Upgradeable
- Motor: Long Type
- Fire Modes: Semi/Full-Auto, Safety
- Package Includes: Gun, Magazine, 9.6v butterfly battery, wall charger, Manual, barrel stick
- Battery: 9.6v butterfly type recommended (Battery included. Wired to stock tube)
- Hopup: Yes, Adjustable

Straight out of the box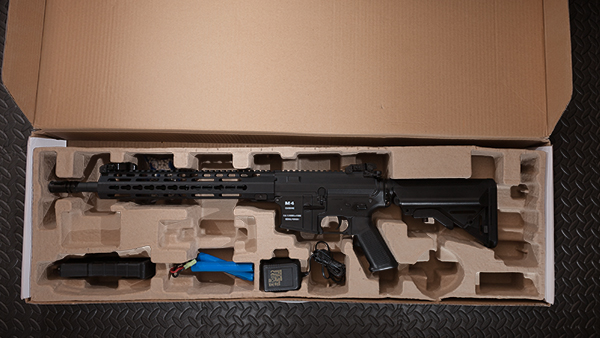 Almost every rifle that you buy you will get a rod to clean your inner barrel, it's a shame that they didn't put any cotton cloths in the box. Included is a little bag of .20 bb's... There is also a manual for how to use and charge your battery and how to use your rifle. In the manual I saw 3 papers for target shooting, they've also put an 2016 catalog with there new models.

An U.S. charger for charging the NiMH battery.

1600 9.6v NiMH battery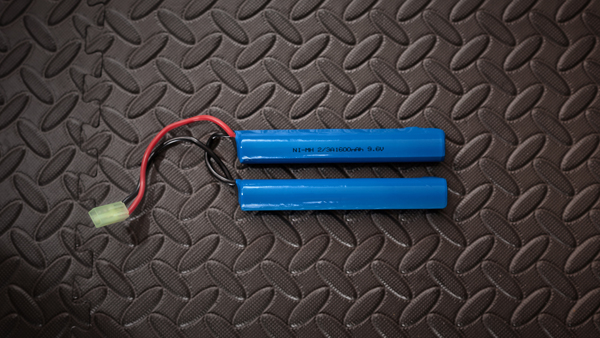 High capacity magazine (300 rounds)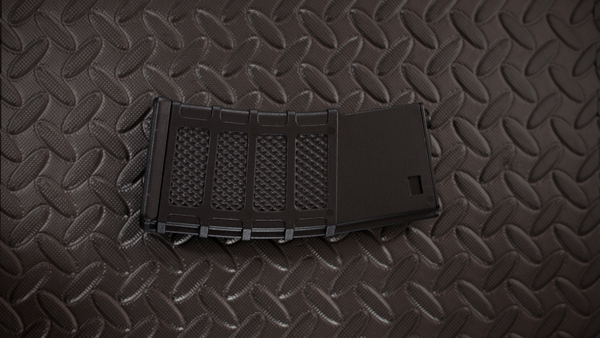 Externals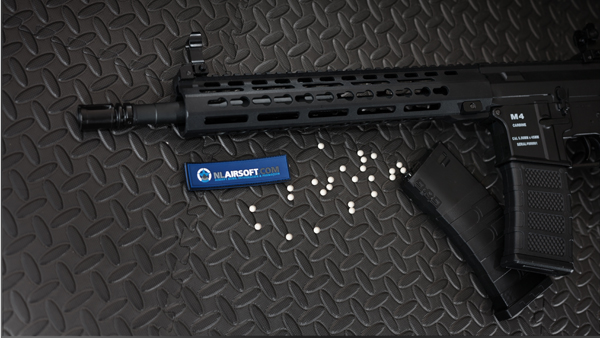 The polymer body feels great, it feels light and solid, i've noticed that the hand guard is a little bit loose you can twist the a little bit from the upper receiver.
The rifle looks great it doesn't look like its made of polymer but it had the looks of an full metal AEG. The rifles are available in Black and Dark Earth finish.

Internals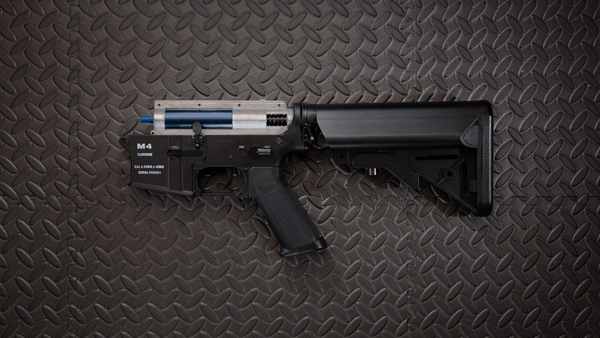 I saw that the most parts where plastic, like the nozzle and the piston (they are mostly by default made of plastic). The hop up is a nice wheel you can turn if u pull the lever to open the dust cover. The mosfet is located in the tube and is easy to remove or replace.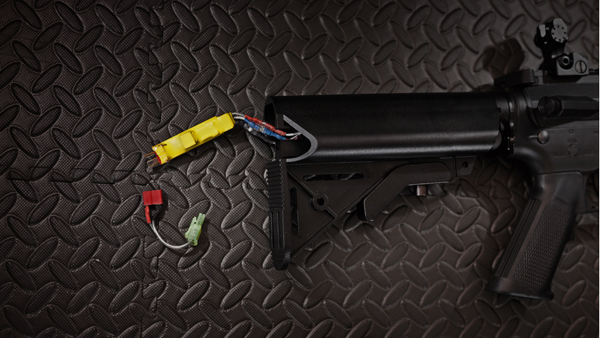 They use a basic motor, it's a shame that I can't find any specs about it. The inner barrel is a 330mm 6.03 tight-bore, for a basic rifle it is a fine inner barrel

Performance
FPS
After admiring the rifle I did a FPS test with the 9.6v battery, I had a great feeling about this rifle but that was al a dream. I tried first 10bb's to see what the results were, 230FPS was the first result.
I filled up an mid-cap (120bbs) and fired all bb's through the chrono, the FPS increased from 230 to 250FPS. I thought if the FPS was increasing why not load more magazines and shoot them all, immediately I saw the FPS rising to 328FPS and that was the limit.
Grouping
Finally had the rifle shooting the max fps (straight out of the box) I decided to do a groupings test. The groupings were wide on a distance of 30m (98 feet) it wasn't very consistent and it had a little bit of deflection to the left (maybe that the barrel was dirty or the bucking wasn't properly placed).
Field test



First I've tried the rifle on a shooting range and wasn't very impressed, groupings weren't consistent even after adjusting the hop up, the gearbox doesn't sounds very good like it needs a bit grease.
After the shooting range I thought to test it at a skirm, first an FPS test with a LiPo 7.4v (maybe it was better to use a 11.1v LiPo, it was cold so I decided to change to a LiPo), 315FPS.
It was nice to carry a lightweight rifle (always used to carry a JG HK416 Full Metal), in field I was noticing some complications with feeding of the bb's and the gearbox stops working sometimes and trust me you don't want that when you are in a battle.
When the weather cleared I switched batteries, LiPo 7.4v to 9.6v NiMH and that was a smart move because after that I hadn't much problems, sometimes I needed to switch from semi to full auto to schoot again.
The grip is a little bit weird, my middle finger was sour after a whole day playing with de rifle. The hand grip has a nub that pushes my finger against the trigger guard, it was very unpleasant at the end of the day. What I also noticed is that the trigger was a little bit heavy to pull.
At the end of the day I had problems with the selector switch, when on semi it fired full auto and on full auto also full auto. I need to look at that. But that's not a big issue.
Pricing
USA pricing is around 180 USD. Europe pricing will be around 180-200,- euro. This is really cheap for an AEG like this. Definately a pro!
Pro's
- Nice polymer body
- Build in Mosfet
- Rate of fire was not bad
- Keymod hand guard
- Range of the rifle was not bad, I think the max distance was 60m (197 feet)
- Flip iron sights
- Cheap priced!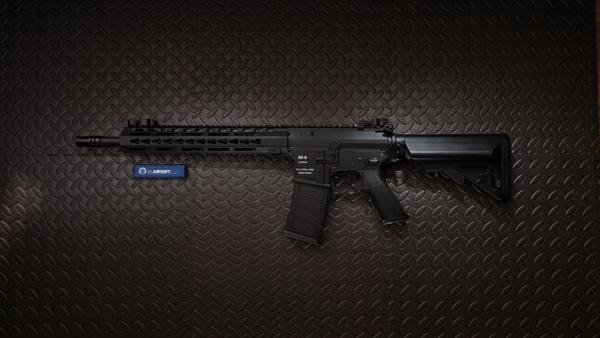 Con's
- FPS test / grouping test
- Motor grip was hurting my hand after a day of airsoft
- NiMH battery included (I prefer LiPo batteries)
- Heavy trigger
- Magazine felt cheap
- No European adapter for the charger
Conclusion
- I think that this is a good rifle to begin with, the price isn't to shabby around 180/190 euros.
- I would buy it except if I hadn't had the knowledge what to do than I would choose another rifle.
- If you want to use LiPo's I think it would be best to use 11.1v LiPo's
- Range of the rifle is good
I think you must work on it straight out of the box to get the most out of it, if you change the inner barrel, hopup/bucking and a stronger spring you have a really good rifle.
Grading by Phano_B
Quality: ***
Reliability: ***
Comfort: ****
Value: ****
Overall: ***
Thanks for http://www.iwholesales.co.uk/ for this opportunity!