When Tokyo Marui (TM) updates their productline, we are all ears! TM still is sort of mother of all airsoft manufacturers. Popular Airsoft is reporting about their product update from the 57th All Japan Model & Hobby Show. A full report can be found at Hyperdouraku.com...
A few highlights are the TM AK-47 NEG, The USP pistol and a mockup/3D printed model of the 19 3rd gen!
Tokyo Marui unveiled their latest member of the new generation electric blowback and recoil shock AEG, the AK-47 NEG. For those looking for the more Kalashnikov traditional look and with the recoil and blowback features done by Tokyo Marui, then this item is for you!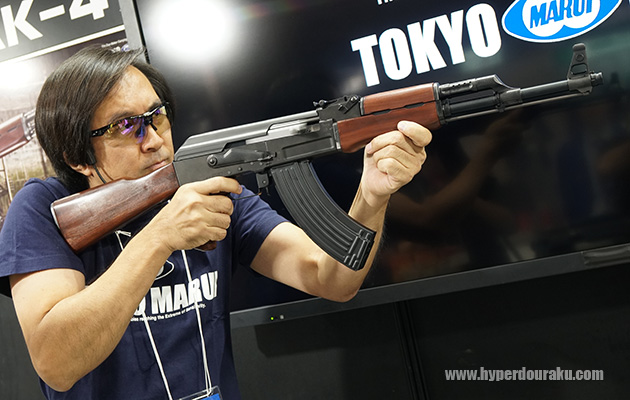 The TM AK-47 NEG has auto-stop when the magazine is empty and features the bolt release. The working distance of the bolt is short though this is always an issue with AEGs that feature the simulated blowback. If the performance of this AK-47 is just like the previous Marui AK NEGs such as the AKS74U NEG, then it's just fine.
Other releases are three pistols: the Tokyo Marui Hi-Capa 4.3 AEP; the Tokyo Marui M&P 9L PC Ported Gas Blowback Pistol; and the Tokyo Marui USP Gas Blowback Pistol. The information that we forgot to ask is when these are going to be available to retailers in Japan so players can anticipate their actual release.
On display a the trade fair are mock-ups of future products from the company: Glock 19 3rd Gen, Colt M45A1, and the V10 Ultra Compact. All of these are gas blowback and we see these getting released next year. As for accessories, the 600-round box magazine for the SGR-12 and the AA-12 will soon be available. This does not show a window unlike the original magazine for these automatic electric shotguns.
The next event where we expect major announcements from Tokyo Marui this year will be in November, the month in which they will hold the Tokyo Marui Festival. This event is something to look forward as there will be more significant product announcements as compared to the All Japan Model & Hobby Show. So stay tuned!