2019 Outdoor Retailer Summer Market was held in Colorado Convention Center between 18-20 June in America. Outdoor Retailer Summer Market has grown over 30 years to become one of the world's largest outdoor tradeshows. This tradeshow shows new products, creative designs and various experience activities and attracts outdoor equipment retailers, manufacturers, professionals in outdoor industry and thousands of buyers from all over the world. They gather together in this tradeshow and share the new fashion trend.
In this tradeshow, NITECORE as the innovating outdoor lighting expert showed headlamps, flashlights, camping lanterns, keychain flashlights, chargers and titanium accessories to all customers and fans. Superior product performances and rich outdoor product lines of NITECORE refreshed user's understanding about outdoor lighting and outdoor power supply.
NITECORE launched the new outdoor power solution in 2019, aiming to create a healthy and intelligent ecosystem to allow users to use electricity in the outdoor environment. NITECORE promoted much safer and more convenient outdoor portable power products to meet different needs of users and to provide the most intelligent electricity experience.
As a three in one camp lantern combines with power bank and battery charger, the LR50 was also shown in Outdoor Retailer Summer Market. LR50 is essential for travel and daily life, it meets users' needs of different scenarios and brings a new and unique outdoor experience for users.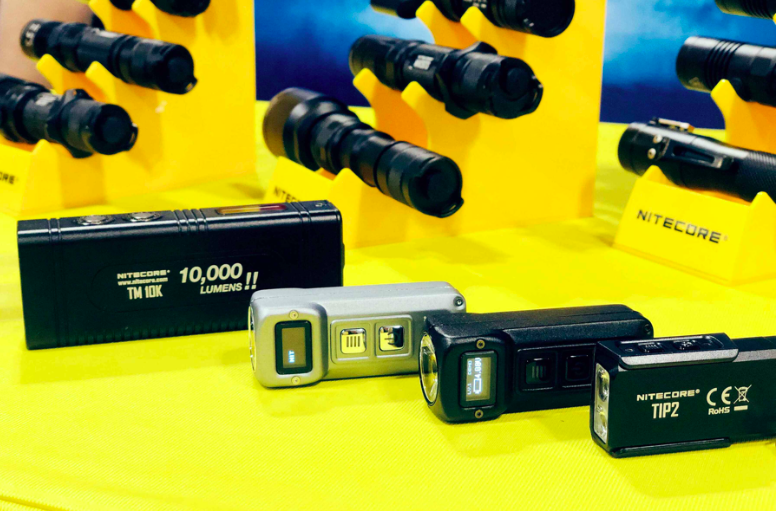 In addition, NITECORE showed newest innovating products for customers in this tradeshow. HC65 is a three-light source rechargeable headlamp and F4 is a four-slot power bank. They won the Gold Winner of 2019 ISPO Outstanding Outdoor Award and have been recognized by outdoor industry with advanced technology, outstanding performance and excellent design.
Outdoor Retailer Summer Market is the world's top tradeshow in outdoor industry. NITECORE shares the newest and most innovating products in a short period of this tradeshow every year. At the same time, NITECORE will introduce much safer and more convenient outdoor portable power products to meet different needs of users and offer the most intelligent power consumption experience. In the future, NITECORE will make more attempts to provide users with a more intelligent, convenient, efficient and safe outdoor experience.
Stay tuned, soon we will review some NITECORE items. Including the new TIP 2!