SOCOMGEAR MEU Jungle Combat Edition is released now!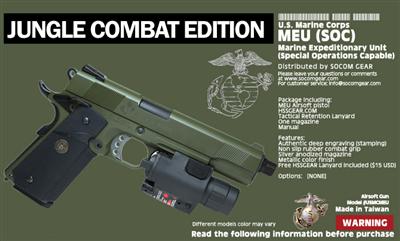 Quantity is limited. You can find out more information here.
Description:
The release of the SOCOM Gear 1911 MEU has been high anticipated by those that know what this pistol is. To the untrained eye it may look like just another 1911 but it is ,in fact, much more. The SOCOM Gear 1911 MEU features a full metal body, upgraded iron sights for easier aiming, front cocking serrations on the slide, comfortable grips, ambidextrous safety for right and left handed users. Also for enhanced looks SOCOM Gear has added and engraved slide, lower frame and chamber; as well as a 3 hole trigger, skeleton hammer, and beaver tail.
Specifications:
Muzzle Velocity: 300-330 fps
Magazine Capacity: 15+1
Gas Type: Green, Red, Propane
Package Includes: gun, magazine, HSS Pistol Lanyard, manual
Features:
Upgraded Internals
Upgraded Magazine
Marine Logo
HSS Lanyard Included