ActionSportGames (ASG) has some big news to announce: after their agreement with ICS for European distribution (announced during IWA 2017), ICS Airsoft further engages into this partnerhip with ASG, this time for the U.S. market...
"ICS Airsoft is proud to announce the exclusive partnership with ASG USA for the distribution of ICS products in US. If you want to know more visit ASG booth 2643 at SHOT Show 2018 and follow us in our social media.
Under the terms of the new agreement, ASG will market, sell and support the full line of ICS products in the US. US Airsoft Retailers and consumers will be able to enjoy the benefits of this partnership, which combines the world-renowned quality and reliability of ICS products with the convenient stateside service and support from ASG"
To underline their partnership ActionSportGames and ICS Airsoft have revealed the HERA Arms CQR at SHOT Show 2018. The HERA Arms CQR is a joint partnership project by ActionSportGames and ICS Airsoft. The Airsoft rifle is designed and developed using original blueprints and drawings provided by HERA Arms, and will also feature components custom made for Airsoft by HERA Arms. The project is built on the ICS CXP AEG platform for proven reliability and performance. Upon release, the HERA Arms CQR will be available in black, tan, and OD green variants.
"The fully licensed CQR project stands as a stellar example of what can be accomplished,when great companies come together to create Airsoft."
The new CQR Airsoft rifle was born through a unique collaboration between ASG, ICS and Hera Arms. Commissioned by ASG and built by ICS using a combination of custom made original parts supplied by Hera Arms, custom-built parts based on the original 3D CAD blueprints and ICS's own battle proven mechanics.
Features:
> Split gearbox for easy access and realistic disassembly
> Quick spring change
> Angled surface receiver for a contemporary look
> Large ambidextrous charging handle
> New detachable CFS folding front and rear sights fully adjustable
> Multiple sling attachments points accommodates different carry methods
> Multiple stock lengths available (using spacers not included)
To check all details on the CQR, check this ASG landing page.
Further another Airsoft accessory has been launched together with the Real steel German firearms manufacture HERA Arms, the new Multi-Position Polymer Front Grips! Hera Arms has developed a new innovating front grip for most MIL-STD 1913 Picatinny Rails. ActionSportGames (ASG) is proud to announce the release of the Airsoft Version to the world. And this is a really good looking option if you ask me!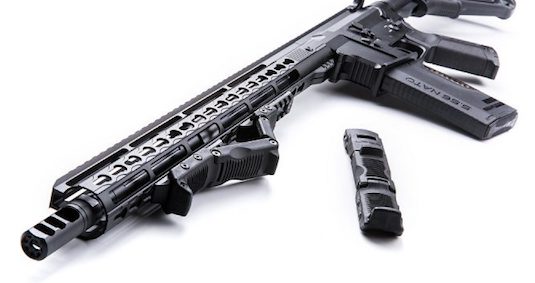 Not to forget the new Storm 360 grenades in several new colours! Speaking of colours, did your see those fancy looking Urban Grey P-09 & Shadow? And we hope to see a production ready model of their announced Licensed Arsenal AR-M7T (coming soon) at IWA 2018!