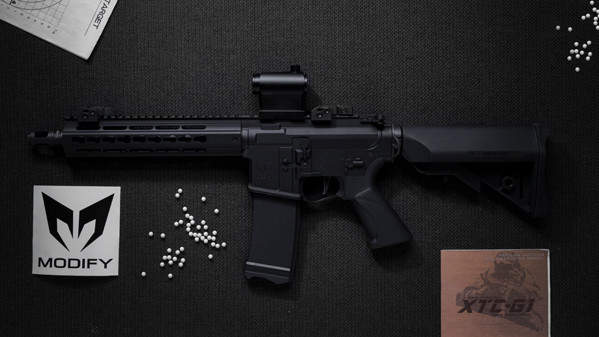 Introduction
I'm very excited to make a review about this replica, I've seen the XTC (not CQB) on various sites/videos and could only dream about to hold this replica in my hands. When I saw videos of the internals I was really surprised (XTC (not CQB)), they have placed some really high quality parts in it. So now we have the Modify XTC CQB! So it's about time I make a review ;)
About Modify
Modify is known for there high quality (upgrade)parts for many branches like Airsoft Custom Parts, RC car upgrade parts etc. They have more then 40 years of experience in this business.
They do have airsoft replica's, they started with sniper models and now they have build their first AEG, the Modify XTC G1. Not so long ago they announced they are producing a shorter version of the G1, the CQB version.

First impression
Like I said before I was excited to receive this replica, when I opened the box everything was nicely placed.
When you look inside the box you can see the magazine and replica, every important specification is printed on the carton board with pointers.
After I read the specs I took the replica out of the box, I was surprised that it was so light. Immediately I checked the gun for any wobble, personally I hate it when you get a replica and everything is loose but it wasn't the case ;)
The flip-up iron sights looks very solid, in one of the bags I saw a key to adjust the front iron sight in height.
When you not used to it the 90 degree trigger feels a little bit weird and the ambidextrous selector switch is for me a little bit awkward because I only used the single sided selector.
When I held the magazine I noticed that they were lean and clean (no markings), so I wanted to try my G&G magazines.. and as I thought.. my G&G midcaps didn't fit -__- … But back to the magazine, the magazine is made of polymer and has a capacity of 190 rounds.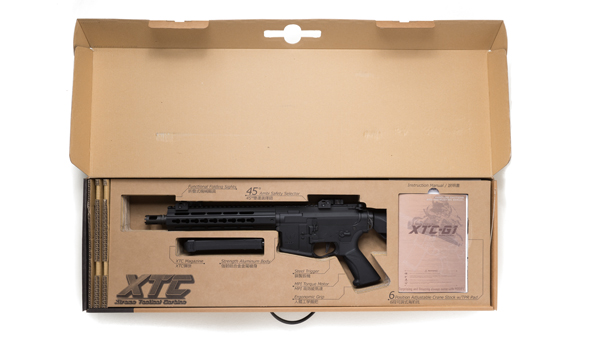 Specifications from the site
- 6065 aluminum freefloat KeyMod rail system with 1913 top rail
- CNC machined 10.5 inch outer barrel
- Folding front/rear sight set
- CNC machined steel flash hider
- 6.1mm precision inner barrel
- Billet style receiver
- Steel flat trigger
- Ergonomic pistol grip
- Ambidextrous, 45 degree short throw selector
- Enhanced polymer magazine ( 190 Rds )
- Enhanced internal parts
- CNC machined steel gear set
- 8mm ceramic ball bearings
- Ultra piston ( 7 metal teeth )
- Aircraft grade piston head, cylinder, cylinder head
- Proprietary hop up system
- Bolt catch for easy hop adjustment
- 6 position, ergonomic retractable stock
- Adjustable, quick change spring system
- Condutive slide rail sysem ( Option )
- Build Material: Metal alloy, polymer
- Gear Box: Proprietary Gearbox, 8mm Bearings
- Motor: Neo Magnetic motor
- Magazine Capacity: 190 Rds, AR AEG compatible
- Length: 678 - 763mm
- Inner barrel Length: 237mm
- Weight: 2300g
- Battery: Nunchuk / stock tube type ( not included )
- Muzzle Velocity: 370 - 390 FPS with 0.2g BBs (is adjustable)
- Package Includes: Gun, Magazine, Manual
Straight out of the box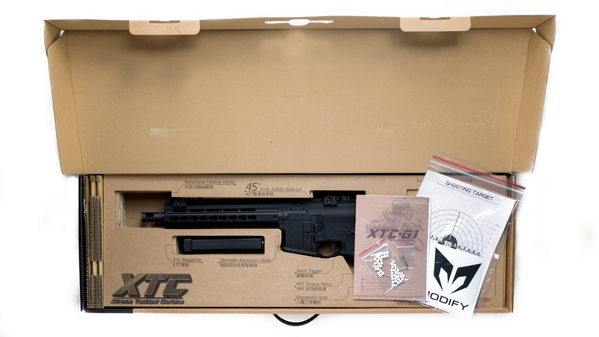 You'll get..
- Modify replica, you can easily remove the replica from its cut out container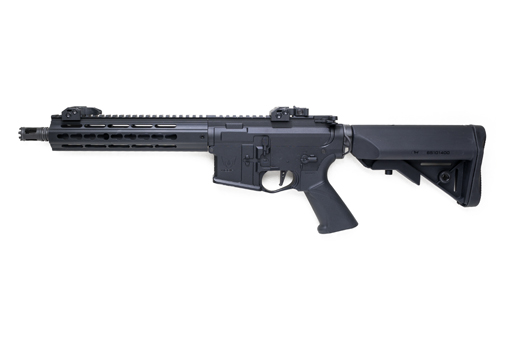 - magazine, nicely sealed (got it out of the seal for the photos)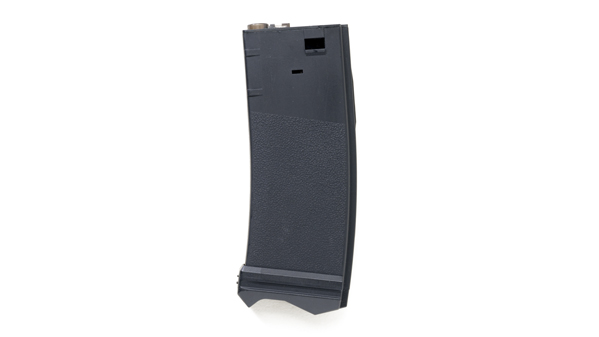 - seal bag with manuals and a collection folder + some target papers and a little bag of bb's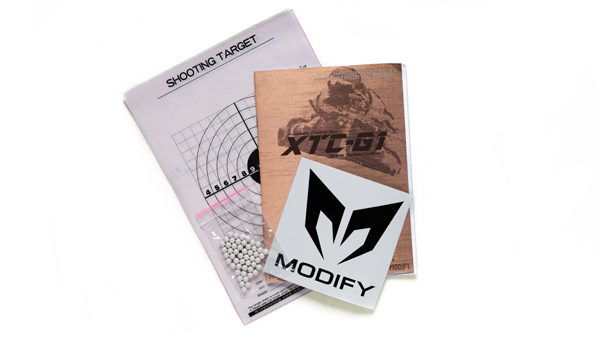 Externals
The upper and lower receiver are made of metal, so for a metal replica this is a very light replica. When I was further inspecting the gun I didn't feel or noticed any wobble that was nice :)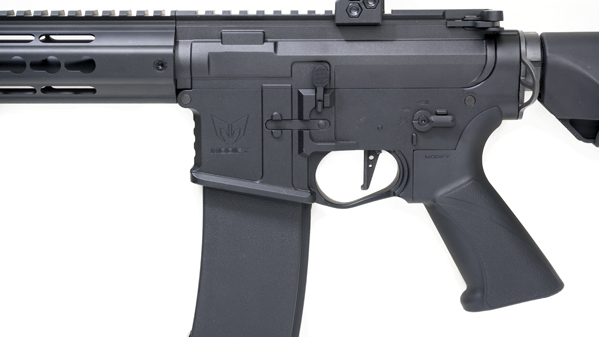 If we look further at the lower receiver we see on the left side a big Modify logo, by the fire selector nicely engraved icons and the text Modify on the handgrip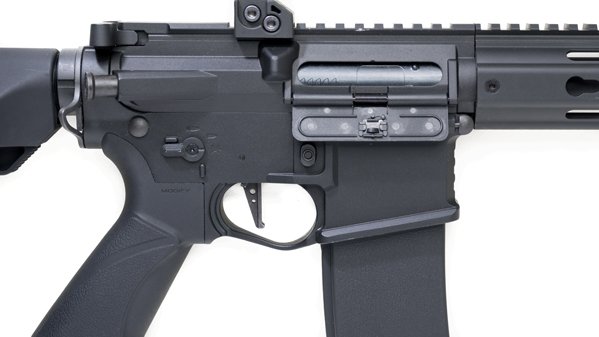 On the right side there are no extra markings.
The crane stock is nice sized stock, it can be adjusted in length (6 positions). On the side of the stock you can see markings, a logo and some kind of serial number.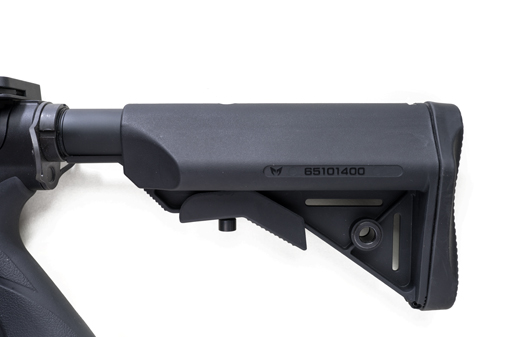 What I really liked about this stock, you don't have to do any difficult stuff to open it and insert a battery. It has a switch when you push it down it opens up and you will never lose to stock rubber! Yeeey!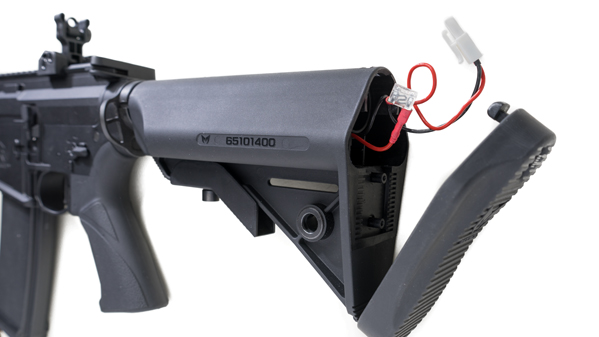 If you look closely to the you see that the buffertube is clear, no wires to mess with. The wires are nicely placed under the buffertube guided between the tube and the metal part that has the holes (positions the stock).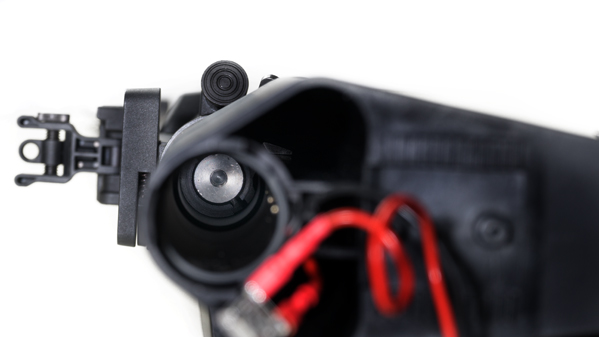 Internals
As we know Modify is known for their upgrade parts.. but when I wanted to clean the innerbarrel (after the field test) I didn't get the feeling the barrel was a Modify inner barrel as know from sites, it looked like an standard inner barrel you get with every other replica, so I was a little bit disappointing.
I didn't had the time to open up the gearbox but when I do I shall do an update about it!
Besides the internals the replica shoots splendid!
Performance
To test the performance of this replica I'm going to do a couple of test
- FPS test with a chrono (and maybe a joule test)
- Groupings, I will go to a range and will see what the groupings are
- Field test, I will attend to a skirm and watch what this baby can do with my trigger finger ;)
- FPS

I was curious what the chrono would bring me, when I loaded the replica I took 1 shot in the chrono and the first FPS was 310FPS
2nd I took 10 shots through the chrono and the FPS fluctuated between 310/320FPS
3th I emptied the magazine and took a shot in the chrono and the FPS was 328,5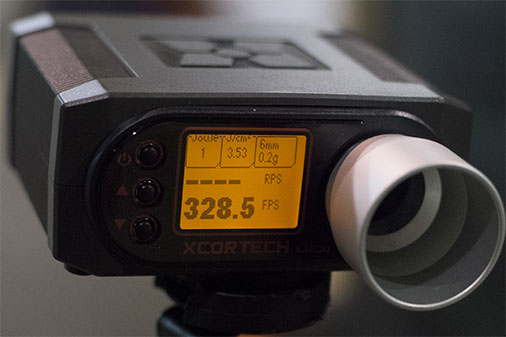 - Groupings

Were I went to test the Modify they didn't had a digital target board, so I shot at carton boards at 30m (98 feet 57⁄64 inches) and was pretty surprised how tight the groupings were. (I forgot to take a photo of it.. my bad.. sorry)

I tried a IAPS parcour at the NABV here in the Netherlands to look how tight it shot, it really impressed me how the Modify reacted at the course, fast, fast trigger response and accurate when shooting.


- Field test

Let's take this baby to the test on a outdoor field! I am taking the Modify to a unique location in the Netherlands at "Fort Honswijk" an outside location with CQB elements. At the field I was surprised to see that the range of this short replica was further as I expected (with wind etc) about 45m (147 feet 7⅝ inches) maybe 50m

[Youtube video]


Pricing
Because we are stationed in Europe we look at European sites for prices, at Gunfire the price of the CQB gun is around 510,- EURO. It is a high price but you got a lot of gun for that price, think about the upgrades you must buy if you want to make a budget gun thats at the same level as the XTC CQB.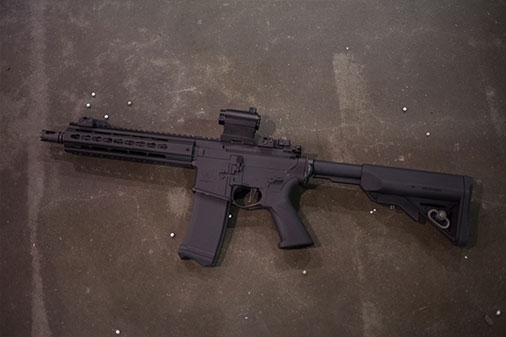 Pro's
- Adjustable FPS (with a long allen key you can regulate the FPS in the buffer tube)
- 45 degree ambidextrous selector
- Flat tigger
- Easy to open the buttstock
- Bolt catch, I love this! It is so annoying to holt the bolt trigger to adjust the hopup
Con's
- Paint comes of easily (e.g. when I removed the iron sights and added the T1 sight)
- Keymod, I am used to have replicas with ris rails so I don't have any keymod rails
- Not every magazine can be used without adjusting them (e.g. my G&G magazines)
Conclusion

The Modify XTC CQB is a high quality replica, very reliable and super awesome! The price is a bit higher than the average replica but it's certainly worth it.
Straight out of the box (and some tweaking on the hopup) you can shoot targets at 60m (196 feet 1013⁄64 inches) not that is needed because it is a CQB version, the groupings then are a bit wider, you can get it super tight in 30m (98 feet 57⁄64 inches)
In my opinion the best Airsoft AEG replica I've ever had in my hands (straight out of the box).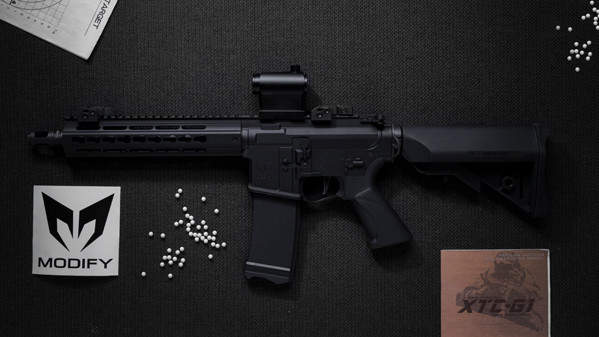 Grading by Phano_B
Quality: ****

Reliability: ****

Comfort: ****

Value: ****
Price: ***

Overall: ****
Special thanks
Special thanks go out to Modify Airsoft for letting us review the Modify XTC CQB!
They referenced to this review at their own website, please visit http://www.modify-tech.com/airsoft-guns/automatic-electric-airsoft-gun/xtc-cqb
Where to buy