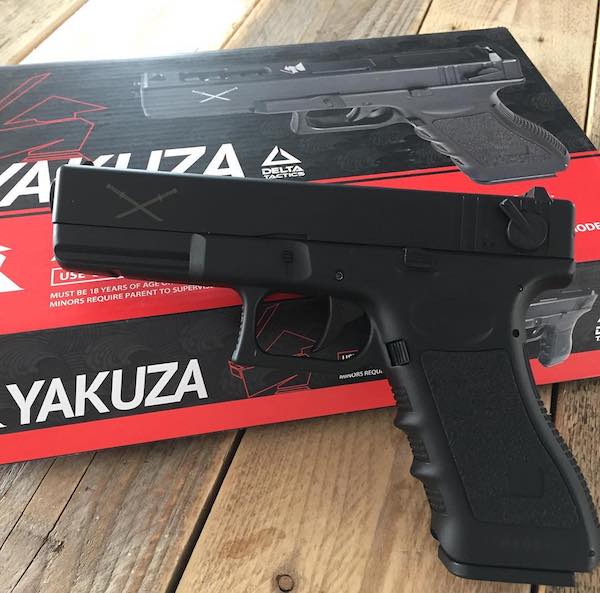 Introduction
SKW Airsoft (Skyway Technolog, Spain) takes the Glock AEP a step forward! Finally since it deserves it :) I really like this electric powered Glock 18C style pistol, simply because you can always rely on it. This Yakuza AEP finally shows some high-end performance. It has a huge battery and will perform 3 times longer compared to the Tokyo Marui AEP model. It includes a micro MOSFET and a way better trigger response. This might be a great follow-up to the TM Glock AEP 18C, it's about time since the their latest release late 2004. We played ever since with the TM Glock 18C AEP, so we are looking forward to this review.
Specifications
This new AEP presents the autonomy and performance required by high end users. This is the TM 2.0 version of their Glock 18C AEP. The Yakuza gun belongs to a new AEP generation 2.0. This new generation improves the battery and inside electronics big time.
Thanks to His Lipo 7,4v 800Mah battery, Yakuza last up to 3 times longer than other AEP's in the market. Charging the battery is very easy and you don't have to remove it from the pistol. Charger is included in the package!
The pistol includes a high performance micro MOSFET. It increases the performance of the gun in several different ways: protects the electronic system, increases battery duration and better trigger response (love the quick trigger performance of this new AEP compared to the old TM Glock 18C AEP version).
Included in the package
Included in the box are by default:
- 1 x pistol
- 1 x mag (30rds)
- 1 x battery (800 mah)
- 1 x Duel Code B3PRO charger (1/2/3 cell, output 800 mah, Li-Po only)
- 1 x cleaning rod
- 1 x Speedloader (which you will definitely need for the small AEP mags)
Details/Stats
Blow Back: NO
Mechanism: AEP (Airsoft Electric Pistol)
Shooting modes: Semi and Full auto
Hop Up: YES
Weight: 630 gr
Length: 185 mm
Material: ABS plastic and metal parts
FPS: 190-200 FPS (as specified by the manufacturer)
Magazine: 30 rds
Battery: Lipo 7.4v-800mah
Spare magazine: AC12705 (30 rds) and AC12706 (100 rds)
Brand: Delta Tactics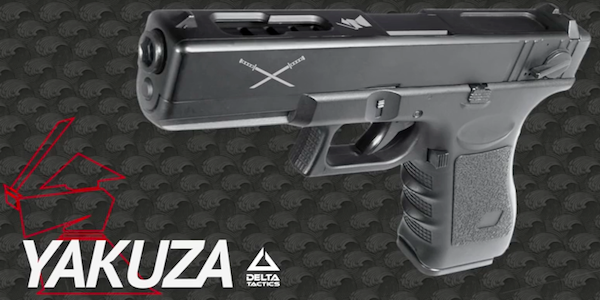 In the field
Simply put, this is the most reliable and effective airsoft pistol in the field! Basically since it's a AEP platform. Together with those performance improvements it's very effective. No, it does not feature any kick or blow back (fixed slide). So it's not the most realistic Glock. Full auto is included with this AEP and it performs great. With around 20-25 rounds per second it delivers an impressive performance and will empty your mag in just a few seconds.
This is a secondary you can always trust and is a pleasure carrying with you. A practical note, this pistol is missing a pistol lanyard option in the grip which might come in handy for those with a holster and additional "lost and found" prevention. Do know the origional Glock and the TM platform both also don't have a lanyard option. For those who would like to adjust the grip for bigger hands, this is not an option with this AEP. Those familiar with the Glock platform know the default grip is quite convenient already.
The slide can easily be removed as we are used to in such an AEP platform. So hop-up access is convenient and fast. Do watch out with the Li-Po balancer connector when you install the battery, it can easily be damaged when installing the slide.
Regarding the mags, the good news is they are almost identical to the TM Glock AEP platform! So your old mags can also be used with this Yakuza Glock 18C AEP platform. This saves you several Euro's.
Safety concerns
We didn't found any big issues with this pistol and yes, overall we are very positive. However we did find a BIG safety concern! When safety (right hand only) is turned on and you heavily pull the trigger you are actually able the SHOOT the pistol. WTF! We already shared this feedback to the manufacturer and we hope this will be fixed very very soon! So basically there is no usable safety option on this pistol, other than disconnecting the battery. Mmmmm.
Metal Version?
There is simply no metal version of this Yakuza Glock 18C AEP platform yet, and yes we would be interested in such a version. The pistol feels a bit light at 630 gr compared to an ASG CZ P-09 (880 gr) for example. Also the old TM Glock AEP platform comes in a bit heavier at 750 gr. The good news about this ABS version is that it feels rock solid.
Trademarks
Not included are any official trademarks. Yet again, this pistol is not about realism. Included are a serial number "DT61095" and a big "Made in china" logo. Not the prettiest externals out there. TM did a slightly better job there, however we all know how strict GLOCK is with their trademark issues.
Battery
As mentioned in the intro, the battery of this pistol is a BIG pro! Easy to charge and install into the pistol. We estimate it can easily take up to 20 mags (600) rounds on 1 charge! That's impressive for an AEP platform. I do remember the good old days where we carried 4 additional batteries for our TM Glock AEP. These additional 300 mah compared to the TM platform do make a big difference. By the way, the battery fits in perfect and tight. You definitely won't need an additional foam or what so ever to keep it in place. You can also charge the battery without taking the battery out the pistol. Batteries can be changed easily, pricing for a seperate battery are not known. Do know batteries from the origional TM platform do NOT fit in this YAKUZA AEP.
Pricing
With prices just around the 120,- Euro in Europe, you can call this Gock 18C actually cheap! Additional mags are around 10,- Euro. All very reasonable for an ABS model when you ask me. Not to mention this pistol comes in very complete and ready to use. Presented in a nice box, where a battery, charger, cleaning rod and speed loader are added by default as mention in the package section of this review.
Accuracy and FPS testing
We will be testing this Glock 18C AEP on our Davinci Dynamics Wireless precision target and Madbull Chrono. These are the results of our FPS testing:
First attempt: 168.2 FPS
Second attempt: 163.3 FPS
Third attempt: 171.8 FPS
Fourth attempt: 165.1 FPS
So the performence if quite consistant but slightly lower than stated by the manufacturer specifications. Now it comes to accuracy, and remember FPS doesn't say anything about accuracy.
Conclusions
When you are not into realism, and taking the safety warning for granted. This is a great platform for you. Great reliability for an affordable price. We call it the most functional and effective airsoft pistol platform and give it a 4 out of 5. You are safe to put this item on you Xmas wishlist.
Images

Delta Tactics YAKUZA GLOCK 18C AEP
Delta Tactics YAKUZA GLOCK 18C AEP
Delta Tactics YAKUZA GLOCK 18C AEP
Delta Tactics YAKUZA GLOCK 18C AEP
Delta Tactics YAKUZA GLOCK 18C AEP Package
Delta Tactics YAKUZA GLOCK 18C AEP Box
Delta Tactics YAKUZA GLOCK 18C AEP Unboxed
Video
https://www.youtube.com/watch?v=IUMrvLSmWYo
Links
http://www.skwairsoft.com/
http://www.skwairsoft.com/en/pistola-electrica-yakuza-delta-tactics
In the news: https://nlairsoft.com/en/home/item/delta-tactics-yakuza-aep.html