Today we received the Madbull Airsoft new LifePo 12.8V battery together with the Madbull Airsoft LFP charger. This is the latest of battery technology for airsoft. I never expected to use LiFe batteries so soon. There were poor sales of the Li-Poly batteries and a lot of doubt regarding safety (we all know those explosive YouTube movies). However this type of battery is taken into serious production by MadBull Airsoft!
They introduce their own development of this promising battery in the form of a 9.6V and 12.8V LiFePO4 battery together with a charger. They last longer, are safer, and easier to handle as compared to Li-Poly batteries. This 12.8v LiFEPO4 battery can deliver even more power than a 13.2v Ni-MH large type battery with only half of the size and a third of the battery cells. LiFePO4 batteries are designed to give the same performance as a LiPo but with a higher tolerance for abuse it is much safer to use. So we requested a review sample and headed for testing.
Are we seriously considering these revolutionary batteries for our expensive AEG's?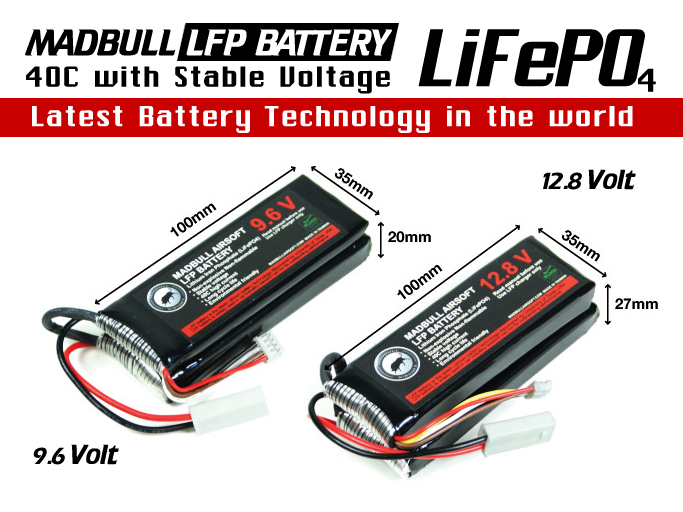 LiFePO4 Batteries: an introduction
In 1989, Arumugam Manthiram and John Goodenough of the University of Texas at Austin showed that cathodes containing polyanions, eg. sulfates, produce higher voltage than oxides due to the inductive effect of the polyanion. In 1996 Goodenough and co-workers discovered the electrochemical utility of the olivine material lithium iron phosphate, LiFePO4. It is an important and emerging cathode material for lithium-ion batteries due in part to its enhanced safety compared to other lithium-ion chemistries.

Lithium iron phosphate ( LiFePO4, also known as LFP), is used as cathode material for lithium-ion batteries. Its characteristic does not include noble elements such as cobalt, the price of raw material is lower and both phosphorus and iron are abundant on Earth which lowers raw material availability issues.
Avoiding the lithium cobalt oxide cathode leads to a number of advantages. LiCoO2 is one of the more expensive components of traditional li-ion batteries, giving LFP batteries the potential to ultimately become significantly cheaper to produce. LiCoO2 is also toxic, while lithium iron phosphate is not. LiCoO2 also can lead to problems with runaway overheating and outgassing, making batteries that use it more susceptible to fire than LFP batteries. This advantage means that LFP batteries don't need as intense charge monitoring as traditional li-ion. Lastly, LFP batteries tend to have superior power density in comparison to traditional li-ion.
LiFePO4 batteries are also used in the OLPC XO laptops, power tools and electrical vehicles. This 12.8V sample from Madbull has a current of 40C! Interesting to notice is that their sister company SOCOM GEAR still supplies Li-Poly batteries...
Battery Manufacturing process
Madbull gives all of us an exclusive view in their battery kitchen, check this YouTube video below to see how these batteries are made.
Build quality
Build quality is extrmely well done. Most impressive is the charger which is also made by Mr. Chen (the designer of the Madbull Chrono) and he used rock solid 6061T6Aircraft aluminum which is extremely durable. The charger is simple to use, has clear indicator lights and is usable for both the 9.6 and the 12.8V version.
The battery comes in a nicely protected package (full of safety warnings, we will come to that later) and the housing seems to be decend. It has to be noted that the battery comes with a mini Tamiya connector. No worries about all the wirings, this is how it has to be done.
Improtant to note is that the batteries DO NOT come with a high throughput Deans connector. True, most type AEG's are standard equiped with a mini or large type Tamiya connector. However operating at higher current levels and larger throughput, Deans connectors are the connectors to use. I really would like to see these batteries with a standard Deans connector and i will be more than happy to modify my AEG and implement a Deans connector.
Environmental friendly?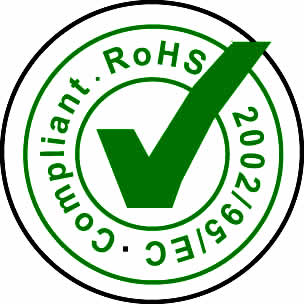 Just good to know and only worth a short notice is that these batteries are RoHS Compliant.RoHS stands for 'Restriction of the use of Certain Hazardous Substances in Electrical and Electronic Equipment'. For those who don't know, this is a market directive introduced in 2006 by the European Union to restrict the use of 6 hazardous materials in the manufacture of various types of electronic and electrical equipment. The hazardous materials include Lead (Pb), Mercury (Hg), Cadmium (Cd), Hexavalent chromium (Cr6+), Polybrominated biphenyls (PBB), Polybrominated diphenyl ether (PBDE).So Madbull takes their environmental responsibility here.


Comparison
Here is a nice comparison Madbull made with the currently used battery technologies:
| | | | |
| --- | --- | --- | --- |
| | LFP | Li-Poly | NiMH |
| Safety | Good | Bad | Good |
| Price | 72 USD | 80-120 USD | 35-90 USD |
| mAh/ Price | Ok | Bad | Good |
| Battery Life | Best | Ok | Ok |
| C value | Best | Best | Ok |
| Available Voltage | 9.6 /12.8 | 11.1 | 8.4/9.6/10.8 |
| High Environment Temperature | Good | Bad | N/A |
| Vol / mAh | Ok | Best | Ok |
| 4 cells Charger with Balancer price | 60 USD | 80 USD | N/A |
| Charging time | Fast | Fast | Slow |
Off course this is a chart from the manufacturers themselves, however I think the values stated are true and show a fair comparison between the current battery technologies. Most noticeable is that the LFP batteries are relative cheap compared to NiMH batteries. They only perform average on MAh/Peice and Vol/MAH, rest of the items are covered by the LFP battery.
Safety
Wow this was impressive, I have never seen an airsoft product with such a large list of safety warnings. I simply have to review this battery, however I will certainly pick my test AEG carefully :)
Here is the list which Madbull airsoft provides together with the batteries:
(1) A new battery comes in a discharged condition and must be charged before use (refer to the device manual for charging instructions).
(2) The battery should be used in the environment as listed below. Otherwise, the battery lifespan and function would be substantially reduced. Under extreme environments, batteries may overheat, explode, or even catch fire
(3) Similar to NiCd and NiMH batteries, lithium-polymer batteries can release extremely high voltages.
(4) Always use battery manufacture approved chargers to recharge the batteries.
(5) Always empty the chamber of your AEG, remove the magazine, put on barrel cap and put on safety before you change the battery.
(6) Never place the battery near the heater, fire, or any heat sources. Never throw the battery into the water or keep the batteries in a damp environment.
(7) Never allow a battery's positive and negative leads to accidentally touch each other.
(8) Never connect the battery to the wall plug or cigarette lighter plug in vehicles.
(9) Never dispose batteries with fire or warm up the battery using any heat sources.
(10) To avoid short-circuit, all batteries should be stored or shipped free of any conductive materials, including necklace, hairpin or any metals.
(11) Never hit or throw the battery against any walls, floors or hard subjects which may damage the batteries by violent mechanical vibration.
(12) Never use hammer, nail or any sharp object to pierce or penetrate through the battery insulator.
(13) Never solder the battery's connectors with wires.
(14) Never disassemble the batteries in any means.
(15) Never charge the battery in an extreme hot environment.
(16) Never place the battery in a microwave or pressurized container.
(17) Never use the lithium-polymer batteries with the disposable batteries or rechargeable batteries in different types, capacity or brands.
(18) Before and after every use of your lithium-polymer batteries, inspect all cells in the pack as much as possible to ensure no physical damages, discolor, heat emission, or swelling in evident. Such signs can often indicate that a dangerous problem exists and the batteries should be disconnected and disposed immediately.
(19) Always store the lithium-polymer batteries in a secure location away from children. If a child accidentally ingests the battery, the child should receive medical attention immediately.
(20) Remove or dispose the batteries immediately when batteries are leaking watery substance and emit strange order.
(21) Do not allow the battery's electrolyte to get in the eyes or skin. Wash affected areas with soap and water immediately if they come in contact with the electrolyte. If electrolyte makes contact with the eyes, flush with large amounts of water for 15 minutes and seek medical attention immediately.
(22) To prolong battery life-span and to ensure battery full function, charged battery should rest for at least one hour before discharging.
(23) Never keep the batteries in an extreme environment, such as direct under sun light or inside the car during hot summer. Otherwise, batteries will overheat or even ignited to substantially shorten the lifespan and damage the function of the batteries.
Working environment: Charge:0℃~45℃/ Discharge: -20℃~60℃ / Storage for 30 days:-20℃~45℃ / Storage for 90 days:-20℃~35℃
Impressive! When we take care of all these safety warning all should go just fine! pfff...
Battery and charger properties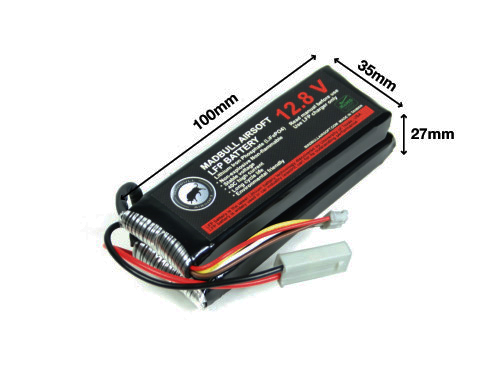 MADBULL AIRSOFT BATTERY MODEL# PowerX-02 [12.8, 1500mAh]
Specifications:
Manufacturer: Madbull
Voltage: 12.8v
Discharge Rate: 40C
Cell Type: Lithium Iron Phosphate (LiFEPO4)
Connector Type: Mini
Special note: this battery can only be charged with the Madbull LFP Charger
Cell specifications
Nominal Capacity 1500mAh* / Nominal Voltage 12.8V** / CELL internal resistance ≦12mΩ / Charge Current max. 3A(2C)
Voltage max. 3.65V / Discharge Continuous Current Max. 22.5A per cell, / Burst Current Max. 40.0A per cell or higher/ Voltage cut-off 2.0V/ Cycle Life / >80% Retention / 1C 1000 cycle / 10 C 100 cycle / Self -Discharge <5% per month / Operating Temperature Range /Charge 0℃∼45℃ 32℉∼113℉ / Discharge -20℃~60℃ -4℉∼140℉ / Storage -20℃~40℃ -4℉∼104℉ / Cell Dimension Thickness 6.2mm/ Width 34mm/ Length 96mm/ Pack of 2 series Dimension Thickness 13.6.0±0.5mm / Width 34.0±0.5mm / Length 96±1.0mm / Weight Appro 135.0g
*Nominal capacity (average discharge capacity) : discharge current 0.5C, end of voltage 2.0V, temperature 23±2℃.
**Nominal voltage (average discharge voltage): discharge current 0.5C, end of voltage 2.0 V, temperature 23±2℃.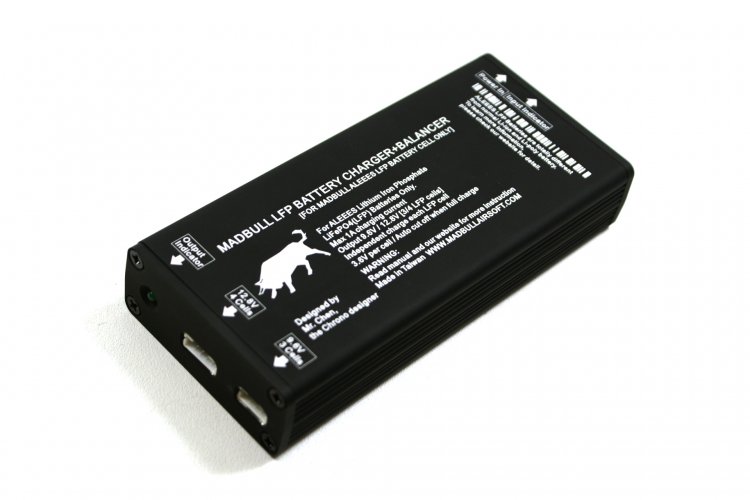 MadBull LFP Battery Charger
Features:


For Lithium Iron Phosphate LiFePO4(LFP) Batteries Only.
Max 1A charging current.
Output 9.6V (3 LFP cells)/ 12.8V (4 LFP cells).
Independent charge each LFP cell.
3.6V per cell / Auto cut off when full charge.
Handheld small size: 13*6*2.5cm
6061T6Aircraft aluminum. Extremely durable.
Characteristics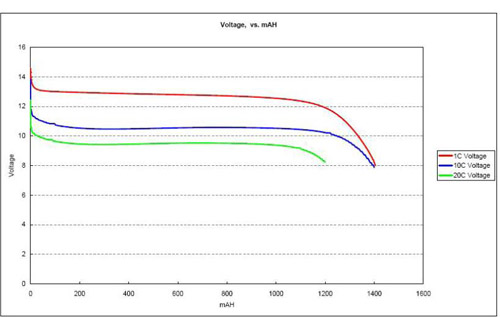 This chart shows a quite steady voltage during use...
Pricing
General retail price at the moment is:
9.6V: 75USD
12.8V: 85USD
Charger: 90 USD
A very decend pricing for the quality you get. There are also battery/charget combo packages with a little discount.
Testing
For now we will first consider which AEG to use for this heavy lifting, we will soon come back to you with our results. Off course we will use the madbull chrono to check the fire rate (bals per secong, bps). The video below shows the battery can cause an impressive 27 bps!
Conclusion
Also let us know what your personal user experiences are! Log in and leave your comments below...
External Links
Madbull Airsoft - http://madbull.com/
Lithium iron phosphate (WikiPedia) - http://en.wikipedia.org/wiki/Lithium_iron_phosphate