Latest announcement from Tokyo Marui regarding their new airsoft revolver. Rough translation of what this is all about..
Colt Python is a high-end 1955 was announced as responsive Magnum revolver was Colt's, the next year is 6 inches, 2.5 inches, 4 inches, which was released with 8-inch barrel. (There are a few 3inches made.). The popular 'blazing Gas Shell 24' series is its unique mechanism 'fired' by one to four rotating cylinder loaded with BB bullets, with a total of 24 BB development that can be fired continuously before it is emptied.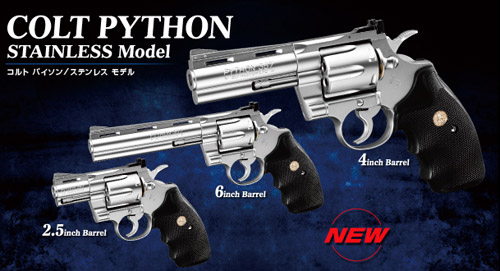 Hop-up, as in previous products, 'V-packing" was adopted. To achieve accuracy and enough distance to prevent gas leakage "movable nozzle loading" and to adopt the concept of 'Revolver' a rip has been equipped with high performance products. The feature of this is "steel" has the beauty of the finish. We accentuated the glow of silver python glamorous specific form, which makes this pistol appealing.



More information at http://www.tokyo-marui.co.jp/products/05/python_stainless/index.html