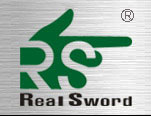 At IWA 2011 and on several news websites there were a lot of rumours about a new gearbox design of RealSword and complete new AEG's like the M16/M4 models. Those new models will be equipped with a completely new mechanism: the gearbox and engine are much more compact and reproduce the movement of the head as a GBBR through an elctro-magnetic system. This system completes with the Recoil System Shock.
Till today these where mainly rumours and prototypes, RealSword just confirmed these new models and send us the first exclusive looks on their manuals. Check out the pictures below of the RS M4A1/RIS GBB model and the RS M16 A4 AEG:
The details are:
- True size, real weight, real balance, real incomplete disassembly
- Military training level gun body strenght
- Complete packed-in accessories
- Steel front sight and hole rear sight can be adjusted as the same way as real gun
- Handguard and stock made by Military specification high strenght polymer material
- Safety selector lever magazine release catch
- Steel bolt guard, hammer, etc. to ensure the operational life of the parts
- Steel muzzle device 14 mm CCW adaptable to all kinds of silencers
- Unfasten butt pin, disassembled by hand
- A CNC precessed RIS will be available to carry various tactical accessories
- Adjustable hop-up device
- 7075-T6 Duralumin forged receiver, CNC machined, hard coat anodizing finish.
- Powered by Gas makes shooting more true (GBB model). AEG will have a completely new designed RS T5 gearbox and will operate on Ni-MH and Li-poly
- Steel one piece barrel, chemistry complex film and black-oxide finish
- 30rds BB magazine
- FPS 395 with 0.20 BBs
This is all the information we have so far, no retail prices and no release dates yet! Please watch this page since we will update it for sure :)
Many thanks to RealSword to confirm this information to us. For those who missed RS on the IWA 2011 show:
{youtube}foQJjv5DHw4{/youtube}